Granite, Quartz and Porcelain  Kitchen Countertops From Absolute Marble & Granite
Specializing in the fabrication and installation of granite, marble and natural stone flooring and kitchen countertops.
Welcome to Absolute Marble & Granite, Inc. in Pompano Beach, Florida where the natural beauty of stone is easily integrated into your lifestyle. Marble and granite offer a one of a kind beauty created only in nature, adding character and warmth to kitchens, baths and other areas of the home or business with a richness that cannot be duplicated with synthetic materials.
Quartz Countertops
 Countertops made of quartz have a sleek and glossy finish that adds elegance and value to any property. They make any room stand out and become the center of attention. Generally used to provide a more modern touch. Due to their wide range of colors and patterns, they are versatile and can be used in a variety of design applications.  
Since quartz countertops are engineered, they are non-porous as well. They do not need to be sealed.
Call Us At (954) 781-7370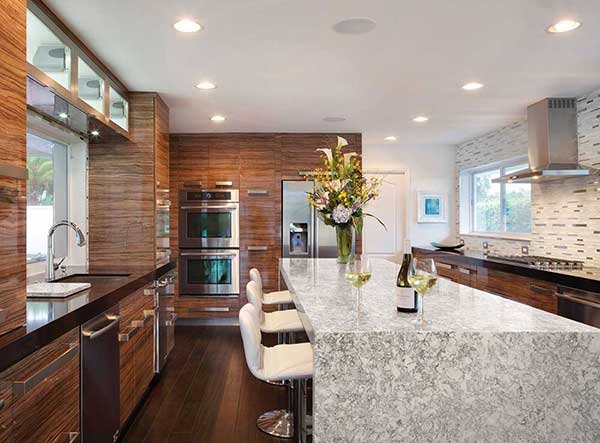 Marble Bathroom Countertops
Marble countertops are excellent for bathrooms and create a beautiful addition to any bathroom vanity. Homeowners appreciate stepping up to marble because it provides a sophisticated touch to any bathroom. In addition, as a result of marble's significant ability to tolerate extreme heat, marble is a perfect material for bathroom vanity countertops, which frequently have hair appliances, for example curling irons, hair styling irons and hair dryers, set on them.
Marble and Granite Flooring Installation
We professionally install marble / granite flooring and our custom fabricated natural stone products into residential and commercial sites. Whether you are remodeling your existing home, building your dream home surrounding yourself with the beauty of natural stone is a lifetime investment you will never regret.
Customer Satisfaction
We at Absolute Marble & Granite, Inc. understand that our customers have needs that are as unique as all of the natural stones, and it is our goal to provide you exactly what you want. We showcase a wide selection of marble and granite in full, half and quarter slabs at our facility.
Quartz Countertops – What Makes Them Special?
Quartz countertops are becoming more and more popular among quite a few home owners in lots of regions of US when talking about kitchen remodeling. Quartz slabs are non-porous. Because of this, they don't need to be sealed.
And this also means they are extremely resistant to bacterial growth, mold and mildew. Kitchen countertops produced from quartz, which is among the hardest minerals found in the Earth are extremely unyielding and long lasting.
In addition to that, they are resistant to heat, chips, dents and various other kinds of surface damage.
Countertop fabrication and installation for kitchens and bathrooms from materials like:
Design your own kitchen, choose cabinet color, stone and backsplash.
Shopping for Granite, Marble, Onyx or Quartz Countertops for Your Kitchen or Bathroom?
Process and Procedure for obtaining an estimate and project installation:
Visit our showroom to see the different stones available, see edge selections .If you have drawings , measurements, cabinet and tile samples, please bring them with you.
We can give you a free estimate based on your drawings or measurements, stone, edge, and backsplash preferences.
Once an estimate has been approved a contract will be drawn up and at that time a 50% deposit is required to secure the stone selection and to be put on the production schedule.
The actual slab (s) will then need to chosen, from our inventory or from one of our stone suppliers. If using one of our suppliers please let them know that Absolute Marble & Granite is fabricating your stone and inform us with your selection and suppliers name.
Once your cabinetry is installed please call our office to schedule a template date.
Your project will then be fabricated and installed. Please allow 2 weeks from the template date.
The balance of the contract is due upon completion of the project.
Fort Lauderdale's Best Stone Fabricator
Check Out Our Google Reviews and Please Leave One!
Cities We Service
Fort Lauderdale
,
Wilton Manors
,Margate,
Boca Raton
,
Boynton Beach
,Coconut Creek,
Lighthouse Point
,Tamarac,Sunrise,Pembroke Pines,Pompano Beach,Plantation,
Coral Springs
,Hallandale 33301,33355,33348,33394,33302,33303,33310,33318,33335,33320,33307,33338,33339,33340,33345,33346,33349,33304,33316,33305,33315,33306,33311,33312,33004, 33334,33308,33309,33317,33313,33020,33314,33019,33359,33329,33093,33097,33319,33022,33084,33082,33081,33083,33060,33388,33021,33077,33061,33068,33337,33069 ,33336,33324,33322,33062,33066,33328,33024,33075,33008,33009,33351,33023,33063,33321,33064,33074