Granite Kitchen Countertops From Absolute Marble & Granite
Specializing in the fabrication and installation of granite, marble and natural stone flooring and kitchen countertops.
Welcome to Absolute Marble & Granite, Inc. in Pompano Beach, Florida where the natural beauty of stone is easily integrated into your lifestyle. Marble and granite offer a one of a kind beauty created only in nature, adding character and warmth to kitchens, baths and other areas of the home or business with a richness that cannot be duplicated with synthetic materials.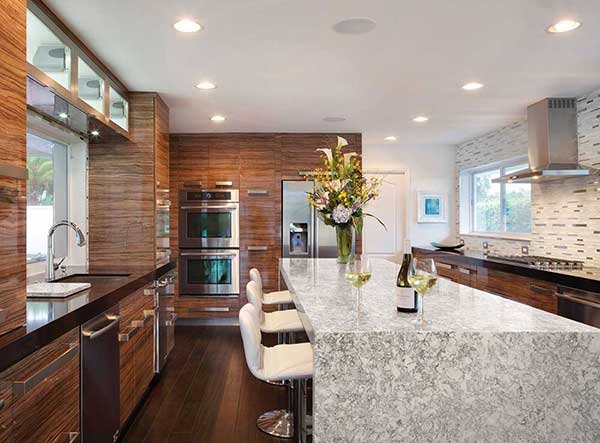 Marble Bathroom Countertops
Marble countertops are excellent for bathrooms and create a beautiful addition to any bathroom vanity. Homeowners appreciate stepping up to marble because it provides a sophisticated touch to any bathroom. In addition, as a result of marble's significant ability to tolerate extreme heat, marble is a perfect material for bathroom vanity countertops, which frequently have hair appliances, for example curling irons, hair styling irons and hair dryers, set on them.
Marble and Granite Flooring Installation
We professionally install marble / granite flooring and our custom fabricated natural stone products into residential and commercial sites. Whether you are remodeling your existing home, building your dream home surrounding yourself with the beauty of natural stone is a lifetime investment you will never regret.
Customer Satisfaction
We at Absolute Marble & Granite, Inc. understand that our customers have needs that are as unique as all of the natural stones, and it is our goal to provide you exactly what you want. We showcase a wide selection of marble and granite in full, half and quarter slabs at our facility.